As my previous Roar to FMM post stated,
I have three different personas
; one of them is my fashion persona in which I am intrigued with runway models and fashion weeks. Unfortunately, that's that, period. I developed this persona from the day I watched some fashion-themed TV shows and took a dive in the rabbit hole of fashion in general after joining a forum which one of the most discussed subjects is fashion-themed TV shows. Until today, I still am accustomed with models and such, but when it comes to fashion week, my blood pressure rises like hell. It's just that there's this urge to color commentate the fashion week the same way as in many sporting events on Twitter, and I've done it maximally this Fall/Winter season. In previous seasons, I limited my commentaries to alumni of fashion-themed TV show franchises, in which there have been threads in the forum I joined covering every season of fashion week, with a purpose of tracking those models' advent in the fashion week.
This season is the first time I've commentated both industry models and models who were a part of a TV show (or to put it simply, "Model Shows"). During my earlier gigs, I focused more on Model Shows but not to forget announcing the progress of the industry models, though this way it sounds like the Model Shows category is the main category, which doesn't seem to make sense, it's like putting Division 2 teams on any of the soccer league you could mention on top of the line. Other than that, this season delivered some of the best races, from early show amount leads, fervent catch-ups,
exclusives
, and even to an extent it ended up with a close, tight finish!
Last season
, Dutch model
Maartje Verhoef
of Women Management took the victory in the Spring/Summer race with 66 shows, tailing behind were The Society's
Alexandra Elizabeth Ljadov
and DNA's
Waleska Gorczevski
with 63 and 62 shows respectively. The last two places were filled by two models from different agencies:
Maja Salamon
from Next with 53 shows and
Lexi Boling
from Ford with 52 shows, clinching the fact that the Top 5 is filled with models from five different agencies. This season, however, was about the exposition of the race between the three first aforementioned models vying for revenge and glory in the Fall/Winter season. Not only that, the fashion week is always full of new faces and exclusives abound! In the same season also in the Model Shows category, Australia's Next Top Model semifinalist
Kia Low
who made waves in the world runways despite not making it to the show dominated with 36 shows, however with a painful twist of less of her shows were impressive; The only good shows she had were Prabal Gurung, Chanel and Kenzo.
Sung Hee
Kim
from I am a Model Korea graced second with 33 shows and a better quality than Kia's showlist, but the third placer
Kate Grigorieva
from Russia's Next Top Model Cycle 4 literally killed the field with monstrous quality albeit only had 31 shows, that is until I can make you a Supermodel's
Julie Hoomans
burnt the entire Model Shows field with a Calvin Klein exclusive and a barrage of Paris top shows.
THE RACE
As always, the Fall/Winter season started in New York as the first destination. Waleska started her revenge plan by building an early lead in the first destination, scoring 26 shows with two show opens and one show close. Tailing them are two Dutch beauties Julia Bergshoeff and Maartje Verhoef, both tied with 23 shows though Julia had two opens and closes in contrast to Maartje's two opens and only one close, however Julia was slightly dropped compared to her last season in which she had the most shows, even tied with Lexi Boling, who unfortunately landed eighth this season for New York. Newcomer
Adrienne Jüliger
made it through the ranks of the outright Top 8 alongside
Mica Arganaraz
, with
Vanessa Moody
and Ljadov chasing on ahead of them. In the Model Shows category meanwhile Kia Low once again showed her prowess quantity-wise, with the dark horse
Aamito Stacie Lagum
of Africa's Next Top Model blazing like crazy with 12 shows.
Saara Sihvonen
returned from the darkside tying Aamito's number, and Julie Hoomans stayed being Julie Hoomans we know. Sung Hee Kim and Kate Grigorieva finished the Model Shows category's Top 8 ensemble for New York.
London became the second destination for the fashion week, and to no one's surprise, the less-explosive caliber of shows seems to be the main reason why London is skipped by many models, though Tom Ford is always the reason why London Fashion Week is worth a check. This season, though, the Tom Ford show
was held in Los Angeles
, to which I was stupidly mistaken that it was an exclusives-only show, and forgot the fact that Tom Ford IS part of London FW AND indeed is a normal show like others (insert d'oh face here). Not much warfare was going on, but Waleska further extended her overall lead with 13 shows, with
Sophia Ahrens
and
Astrid Holler
were two shows adrift from the Brazillian. In the Model Shows category however Sung Hee and Kia raced hard with 9 shows and both almost gripped the outright Top 8, but in the end there were non-Model Shows models who had the same number of shows as the two but had opened one to three accumulative show opens/closes, and nobody from the category went through the final cut. However, Sung Hee's better caliber of shows, especially with her walking Burberry, easily knocked out Kia's LFW showlist by miles. Also worth noting for this season's LFW were the return of
Anna Nevala
, the model who was part of Finland's NTM, the same show and season Saara was in, and Aamito's three-show appearance of Giles, Jonathan Saunders and Paul Smith.
Milan is where the fashion week warfare intensifies with lots of top shows up for grabs and a very high, strict standard of its own. In the outright category, Alexandra Elizabeth pulled out a holeshot with five Day 1 shows including Fausto Puglisi, the show she opened. But as the war reaches its second day, she was involved in a lead battle against
Aya Jones
after Ljadov lost her guard with only walking for Fendi and Prada while Aya walked both shows plus Moschino, taking both of their show amounts to seven at the end of Day 2. The lead wars continued until Day 4 where Aya lost momentum having only walked for Bottega Veneta. In the end, Ljadov delivered the final blow thanks to her four Day 4 shows and walked a total of 17 shows. As a result, Aya lost three places from
Grace Hartzel
, Maartje Verhoef and
Julia van Os
. Grace and Maartje jandaled their way with 16 shows, but as Grace closed Etro and Blumarine, she claimed the second place, and Julia furthered Aya's pain having opened Trussardi and Missoni and also closed Francesco Scognamiglio. In the Model Shows category meanwhile Sung Hee teached Kate how it was done with 11 shows versus Kate's nine, but talk about quality, Kate's shows delivered even more severe bruises than Sung Hee's, with a Versace appearance and Ermanno Scervino open. Again, Aamito and Julie were seen in action with both girls walked only for Bottega Veneta and Prada respectively.
The final destination Paris is always infamously known for its suspense of table-turning twists, and this season was no different, not only the fight was very intense but also coincided with
Fandom March Madness timeline
. Waleska was having a huge lead departing Milan, and her only job was to keep such a momentum to be the winner of this season, that is if Ljadov and Maartje weren't hot on her trail. Everything went fine entering the first day but on the second
Irina Liss
overtook everyone like a video game with five shows, exactly mirroring the move
Emanuele Pirro used in 2010 12 Hours of Sebring race
, but in this case though, it is the lead Irina Liss was taking. Cut to the third day where bluechip shows start coming in, Maartje slowly caught on Irina's slipstream until the Dutch is able to match Irina's number of 14 by the fifth day, even the warfare behind these two models escalated even hotter with Mica, Ljadov,
Valery Kaufman
, Vanessa, Bergshoeff and others vying for the Top 8. On the last three days, just when Irina would take the Paris FW victory home, Maartje bombed hard with multiple-show assaults, started with Chanel, Valentino and Alexander McQueen and a final blow of Louis Vuitton and Miu Miu, eventually pulling herself a
last-minute overtake of 2014 Bathurst 1000
. In context, it was spot-on as Irina only did Valentino on the penultimate day and eventually absent in the final day. Ljadov meanwhile survived the war between the chasers with 21 shows in Paris and Irina ended miserably third despite her spectacular early lead.
Just like in the Outright category, Model Shows category also delivered a spectacular show of the season, with the showdown between Aamito and Kate as the highlight. Kate started out with a holeshot in a form of Anthony Vaccarello appearance, but Aamito counterattacked with Dries Van Noten and H&M Studio. Aamito maintained her lead until Day 6 where she didn't partake in any of the day's shows and Kate appeared in Emanuel Ungaro as a closing look and Givenchy, eventually taking the lead from the African breakout star. From there on, everything went well for her and her Paris victory was certain, until Aamito tied Kate with an appearance in Moncler Gamme Rouge. It got worse as Aamito opened Balenciaga beforehand, so once again Kate's Paris victory was once again robbed in a plot twist fashion, even closing Emanuel Ungaro didn't help. Julie and Sung Hee were a bit powerless and Saara Sihvonen once again scored
another exclusive
, this time it's her second time which was in
Céline
. Not to be missed out however is
Ivana Teklic
, a Germany's NTM alumni who managed to book Dior among the other three she had.
In the end, the season ended with a bang: Waleska and Ljadov tied with 67 shows. At glance, it was Waleska's victory, but taking the accumulative show opens and closes into account, it is Alexandra Elizabeth Ljadov who won the season, having 3 opens and 2 closes compared to Waleska's only one close, and Maartje completed the Top 3 with 62 shows. Newcomer Sophia Ahrens however managed to break through the ranks with 58 shows, 7 show opens and 3 show closes, although missed out of Top 3, and so did Mica Arganaraz with 53 shows, 2 opens and 1 close. In the Model Shows category, Kia Low won the season yet again with 34 shows walked, though her victory isn't that impressive considering her walked shows weren't that impressive, with Sung Hee taking second and four highlighted models of Kate, Aamito, Julie and Saara, all with their fair share of success; Kate took the Top 3 once again, Aamito
broke through the rankings
, Julie
just had her breakthrough season noticed by models.com
(but personally her breakthrough season IS the S/S 2015 as she was a CK exclusive + had lots of Paris shows -_-) and finally Saara taking another exclusive after a long time.
COUNTING FIASCO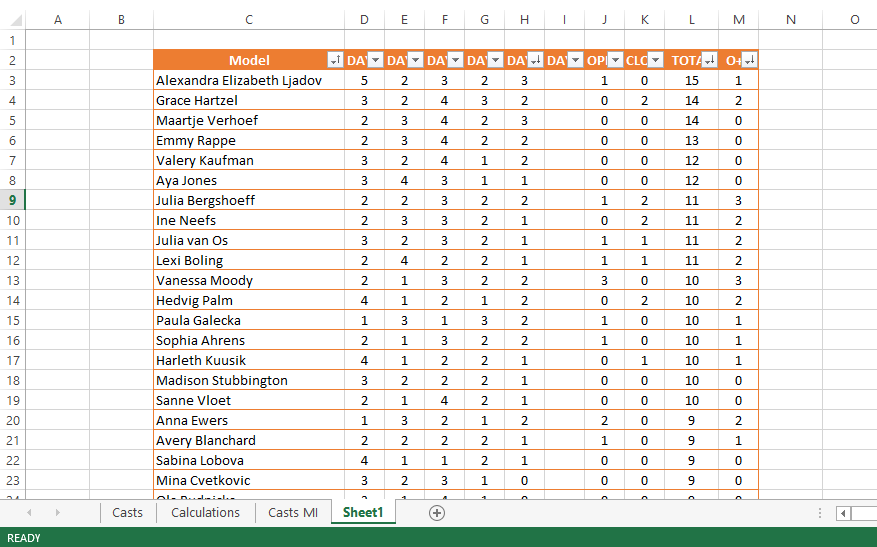 I had to say that during NYFW, I sweated myself out just to do some seemingly-unimportant calculations, even I didn't know how to do it at the first time, until I've got the right formula for that using Excel as my main tool. With models.com didn't update its runway rankings in a real-time manner, I switched my reference to
the Fashion Spot
where the showlist thread for this Fall/Winter season helped me in tracking the models' race.
How does it work, you wonder? Simple. First, I copy-paste the list for the corresponding show. The shows were formatted based on the schedule beforehand, though additional shows not in the schedule are included either before the first or after the last scheduled show depending on my estimated time (examples include Coach for NYFW and H&M Studio for PFW). The limitations for the copy-paste are the names that contain either (O), (C) or both where the name(s) bearing such a symbol will be also copied to the "Open / Close" column. When all the work is done, there will be a table that is used to track how many shows the models walk for the corresponding day, the overall shows walked throughout the individual city's fashion week, and the calculations of their show opens, closes, and its accumulations, used for tiebreakers with distinctive formulas based on the previous show cast sheet. For the quality tiebreakers, it's a different story: the values were based on a forum game which is a fashion week prediction game. This tiebreaker will commence if the open/close tiebreaker doesn't break the tie. In short, the Top 8 hierarchy goes Show amounts > open/closes > quality. For your references, you can check out my Google Docs document detailing how show quality rules are applied throughout the Spring/Summer season
here
. It's a very different matter, but you can get the point there.
Despite that, the system is not without its flaws; first, duplicate names with different spelling exist. As the formula requires copy-pasting names to both cast list sheet and the city table, with different users have different name spelling, it always happen, and that doesn't include typos. Sure you could say "Copy and Replace" easily, but since it is a single-man work this produces more chance of get-togethers, which also reveals the second flaw of the system. The another is that the list is bound for changes, and mistakes are abound, especially on the identifier's side. This also happened so many times such as the missing Alexandra Elizabeth Ljadov NYFW show that one of the posters forgot, mistaking Hedvig Palm of not opening shows, etc. The system was made as a countermeasure of models.com's aforementioned problem, hence it's not a perfect system, even a substitute for the site's
runway rankings page
(that is before they added the Couture shows at the time of this post...).
But if only there is a sure fire way to do everything in real time...
THE FUTURE OF MY S/S 2016 COMMENTARIES
Spring/Summer season starts between September and October, and on that time frame I would be really busy with lots of college matters, this time a serious one: Student Study Service is a concept of linking academic study with the practical experience of community service (
Wikipedia
), and I have reached the phase in which I am eligible to do such an activity, which is one of the considerations for college graduation, although I have to say that I don't know if there really is such a thing like this in the overseas curriculum, particularly American. If that activity coincides with the said timeframe then there will be no color commentaries for the next Fashion Week as I think nobody would do what I do. However, recaps will be certainly posted although there will be a slight delay. This decision is made because I don't want to act like a hikkikomori (Japanese for "a total loner") and college graduation tops everything even my madness.
But the most important thing to address is the inclusion of Next Top Model semifinalists; sure seeing Kia Low and other semifinalists from other NTMs taking their stands with booking good shows is a sight to see, but I came up with the decision I had to let out, which is to no longer including them in the Model Shows category. I tweeted once about the definition of the Model Shows category which is the category reserved for models coming from modeling-themed competition reality shows. To make this more exact, it refers to the "finalists" of the show, and not the "semifinalists". I don't even care if she walked so many shows but sadly it was my business alone, not that I based it on Kia's monstrous list, being too powerful against the finalists, which in actuality her list is rather low-key recently, compared to others.
So there you have it, another fashion week season far more exciting than FMM's final round! I know it might be unlawful to have a fashion-related post in the LiveJournal environment full of fandom-related things, but for me, fashion is also a fandom you've never known it does exist. I just found the loophole, that's all.
And the last March Madness update will be
Zimbio TV Couples March Madness
. It's very unfortunate that March ended too fast.
~[R]